Kohli on RCB's defeat to KKR
Although we take pride in our playing style, we fell short of our standards tonight, and we are not hesitant to acknowledge it.
After suffering a 21-run defeat at home in Bengaluru, Royal Challengers Bangalore's stand-in captain, Virat Kohli, expressed his disappointment with the team's performance.
Claim up to ₹15,000 Welcome Bonus Now

Claim up to ₹15,000 Welcome Bonus Now
Easy Sign-Up and Deposits
Win 1000x Bet Amount!
300% Welcome Bonus up to ₹10,000
He admitted that they "deserved to lose" due to their lapses in the field and that they had given Kolkata Knight Riders "a freebie."
Kohli went on to say that the bowlers had done well, but the fielders had failed to hold on to their chances.
He explained that giving away freebies in T20 cricket was not ideal and that they had literally handed the victory to the opposition.
Also Read:
How to Calculate Projected Score in Cricket
Cricket Match Prediction Formula
Kohli also reiterated that the team takes pride in the way they play, but on that particular night, they fell short of their standards and were not afraid to admit it.
"We missed out on a few crucial moments," explained Virat Kohli, Royal Challengers Bangalore's stand-in captain, after the 21-run defeat at home to Kolkata Knight Riders.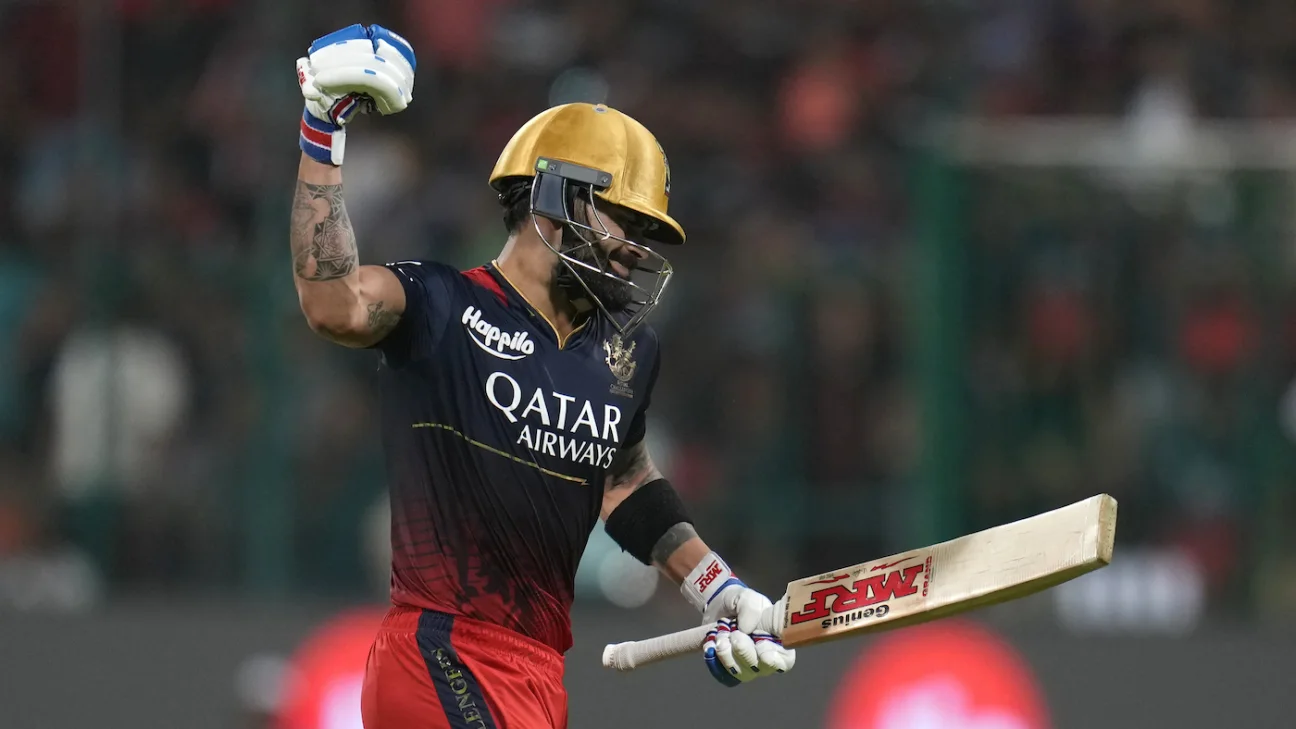 Kohli pointed out that during a crucial period of four to five overs, they dropped a few chances, which ultimately cost them around 25 to 30 runs.
He emphasised the importance of capitalising on such moments in the game and acknowledged that failing to do so had a significant impact on the team's overall performance.
Nitish Rana, the Kolkata Knight Riders captain, was given two chances during his innings of 48 off 21 balls against Royal Challengers Bangalore.
The first chance came when he was on just 5, as Mohammed Siraj dropped a catch at long-off off the bowling of Vijaykumar Vyshak.
In the following over, Rana hit a flick shot to fine leg, where Harshal Patel couldn't hold on to the catch. At the time, Rana was on 19 off 12 balls.
Rana went on to hit two sixes off Harshal in the next over and closed out the 17th over with two fours and a six off Vyshak.
This surge in runs helped KKR to score 50 runs off the last four overs, enabling them to reach a total of 200.
In response, Royal Challengers Bangalore lost three wickets – those of Faf du Plessis, Shahbaz Ahmed, and Glenn Maxwell – within the powerplay, despite scoring 58 runs.
Kohli managed to keep RCB in the game with his fifth half-century of the season and a 55-run partnership with Mahipal Lomror.
However, the pair fell in quick succession, which derailed RCB's chase.
According to Virat Kohli, Royal Challengers Bangalore's stand-in captain, their batting performance was not up to the mark as they had set themselves up really well but had suffered too many soft dismissals.
Kohli highlighted that they had ended up hitting balls that were not wicket-taking deliveries to fielders on four to five occasions during the innings.
He stressed that such soft plays in cricket must be avoided by the team.
Kohli went on to explain that when a team makes six to seven such errors in a game, they are bound to end up on the losing side.
Despite losing wickets, Royal Challengers Bangalore managed to stay in the game with the help of one partnership.
Virat Kohli acknowledged that they were just one more partnership away from getting close to chasing down the target.
He emphasised the importance of identifying the areas that went wrong during the game and avoiding soft plays in future matches.
Claim up to ₹15,000 Welcome Bonus Now

Claim up to ₹15,000 Welcome Bonus Now
Fastest Indian Rupees Withdrawals
Win 1000x Bet Amount!
Available in four different Indian languages
This defeat was RCB's second loss to KKR this season, and they are currently fifth on the table, just two points behind Chennai Super Kings and Gujarat Titans.
They are scheduled to play their next five games away from home before returning to the M Chinnaswamy Stadium for their final league match.