Arjun Tendulkar Hits First IPL Six, Social Media Draws Comparisons To Father Sachin
Arjun Tendulkar, the all-rounder for Mumbai Indians, secured his second wicket of his IPL career during the match against Gujarat Titans in Ahmedabad.
Since his debut in the IPL 2023 season, Arjun Tendulkar, the all-rounder for Mumbai Indians and son of Indian cricketing legend Sachin Tendulkar, has shown promise with his bowling.
Get up to ₹20,000 Bonus Every Week!

Get up to ₹20,000 Bonus Every Week!
Fastest Indian Rupees Withdrawals
Fast deposits with UPI
Available in four different Indian languages
In the match against Gujarat Titans at Narendra Modi Stadium in Ahmedabad on Tuesday, the left-arm pacer secured his second IPL wicket by dismissing Gujarat Titans opener Wriddhiman Saha for 4 runs.
Moreover, Arjun Tendulkar proved his worth with the bat as well in the same match.
Despite Mumbai Indians suffering a 55-run defeat against the defending champions GT, the all-rounder demonstrated his explosive batting ability by hitting the first six of his IPL career and scoring 13 runs off just 9 balls.
Arjun Tendulkar, a left-handed batsman, smashed a colossal six over the mid-wicket region against the fast bowler Mohit Sharma during a match.
The clip of Arjun's splendid shot spread like wildfire across various social media platforms.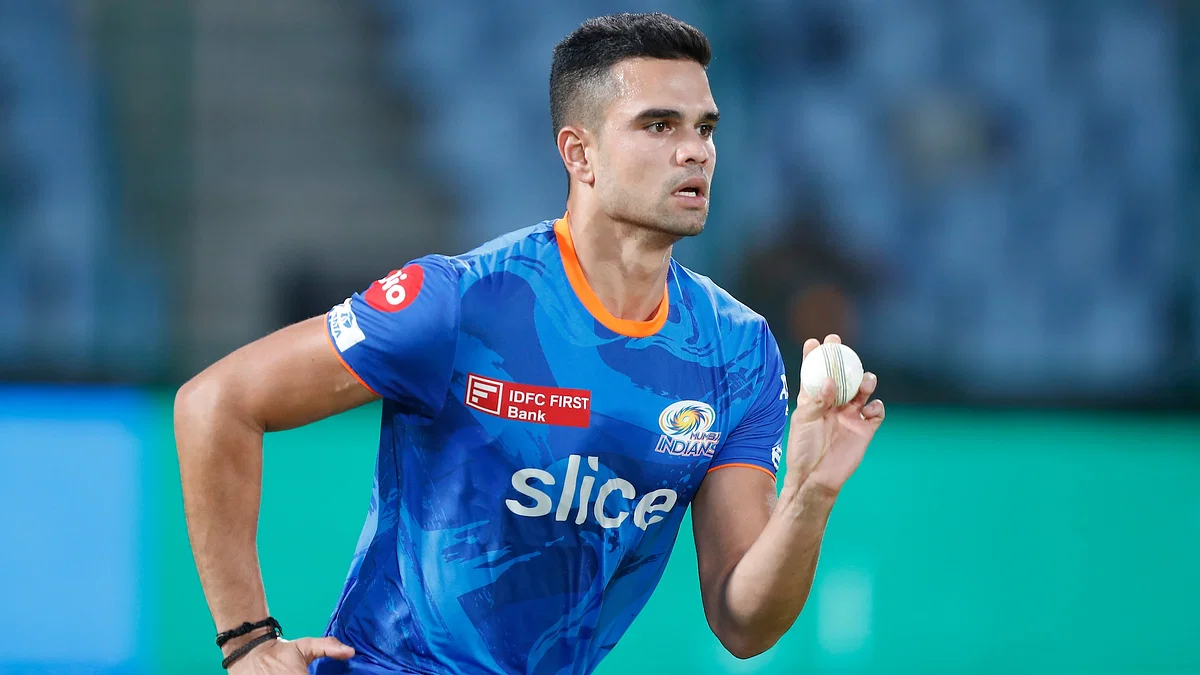 Social media immediately started making comparisons between Arjun Tendulkar and his legendary father Sachin Tendulkar in the IPL.
While Sachin hit his first six of the IPL in the 36th match of a season, Arjun managed to do so in the 35th game of the 2023 season.
Interestingly, both Sachin and Arjun were batting at 5 off 5 balls before they hit their sixth ball for a six.
Furthermore, both of them were dismissed by a Sharma hailing from Haryana, namely Joginder Sharma and Mohit Sharma, respectively, in their respective innings. This coincidence led to even more discussions on social media.
Also Read:
How to Calculate Projected Score in Cricket
Cricket Match Prediction Formula
Following their second consecutive loss in IPL 2023, Mumbai Indians skipper Rohit Sharma expressed his disappointment with the bowling performance of his team.
In the post-match presentation, he said, "It's a little disappointing.
We pretty much had control of the game till the last few overs when we went for too many runs. It's just about execution.
We need to execute what's right, who are the batsmen, those kind of things. But in the end we didn't do that and gave too many runs."
Rohit Sharma himself was dismissed for just 2 runs as MI were restricted to a total of 152 for 9 while chasing a daunting target of 208 runs in Ahmedabad.
Reflecting on the batting performance, he said, "You've got to look at every team has very different strengths.
200% Spribe Aviator Welcome Bonus

200% Spribe Aviator Welcome Bonus
Easy Sign-Up and Deposits
Win 1000x Bet Amount!
300% Welcome Bonus up to ₹10,000
We have a strong batting lineup to achieve the target. Today our batting couldn't get going.
There's a lot of dew as well, so if we had batted well then maybe we would have chased it. But we didn't start well, and you don't do that when you are chasing 200-plus."