Confident Tilak Varma is Prepared to Assume Any Duty
Tilak Varma, in just his second season, has already proven himself to be a reliable crisis batsman for the Mumbai Indians.
Despite the five-time champions' forgettable campaign in the 2022 IPL season, Varma shone brightly by tallying almost 400 runs in his debut season, impressing spectators with his batting skills.
Claim up to ₹15,000 Welcome Bonus Now

Claim up to ₹15,000 Welcome Bonus Now
Easy Sign-Up and Deposits
Fast deposits with UPI
Available in four different Indian languages
In the 2023 season, Varma has continued to perform well, contributing crucial runs in four out of five matches, including a significant 37 runs off 17 balls in Mumbai's latest victory over Hyderabad on April 18.
Despite being a solid number three, Varma has mostly been utilized as a floater in the middle-order.
Nevertheless, he has stated that he is comfortable playing in any situation and has adapted his game accordingly.
Varma has also informed the management that he is capable of batting anywhere and is confident in his ability to do so.
Despite already delivering numerous impactful performances in his short IPL career, Tilak Varma's recent cameo during Tuesday's game was particularly special as it marked his first IPL match on his home ground in Hyderabad.
As a local player, Varma's ability to stand up and provide a strong middle-overs boost when Mumbai needed it most made the moment even more memorable.
Reflecting on the experience, Varma shared that playing on his home ground had always been a dream of his, and that he was incredibly excited and nervous leading up to the game.
Having grown up playing cricket in Hyderabad, Varma was pleased that his preparation paid off, and that he was able to contribute to Mumbai's victory.
During the game, Mumbai Indians had started off strong in the powerplay, but struggled to maintain their momentum in the middle overs due to the slightly sluggish surface.
Despite Sunrisers' bowlers, especially their spinners, sticking to their disciplined bowling, Mumbai's scoring rate remained at seven runs-per-over between overs 7-14.
It was in the 15th over that Tilak Varma, who had been playing cautiously until then, broke free.
Marco Jansen, who had been bowling an excellent spell, began his final over with two fours from Cameron Green.
Varma, determined to capitalize on the momentum, hit two consecutive sixes to end the over with 21 runs.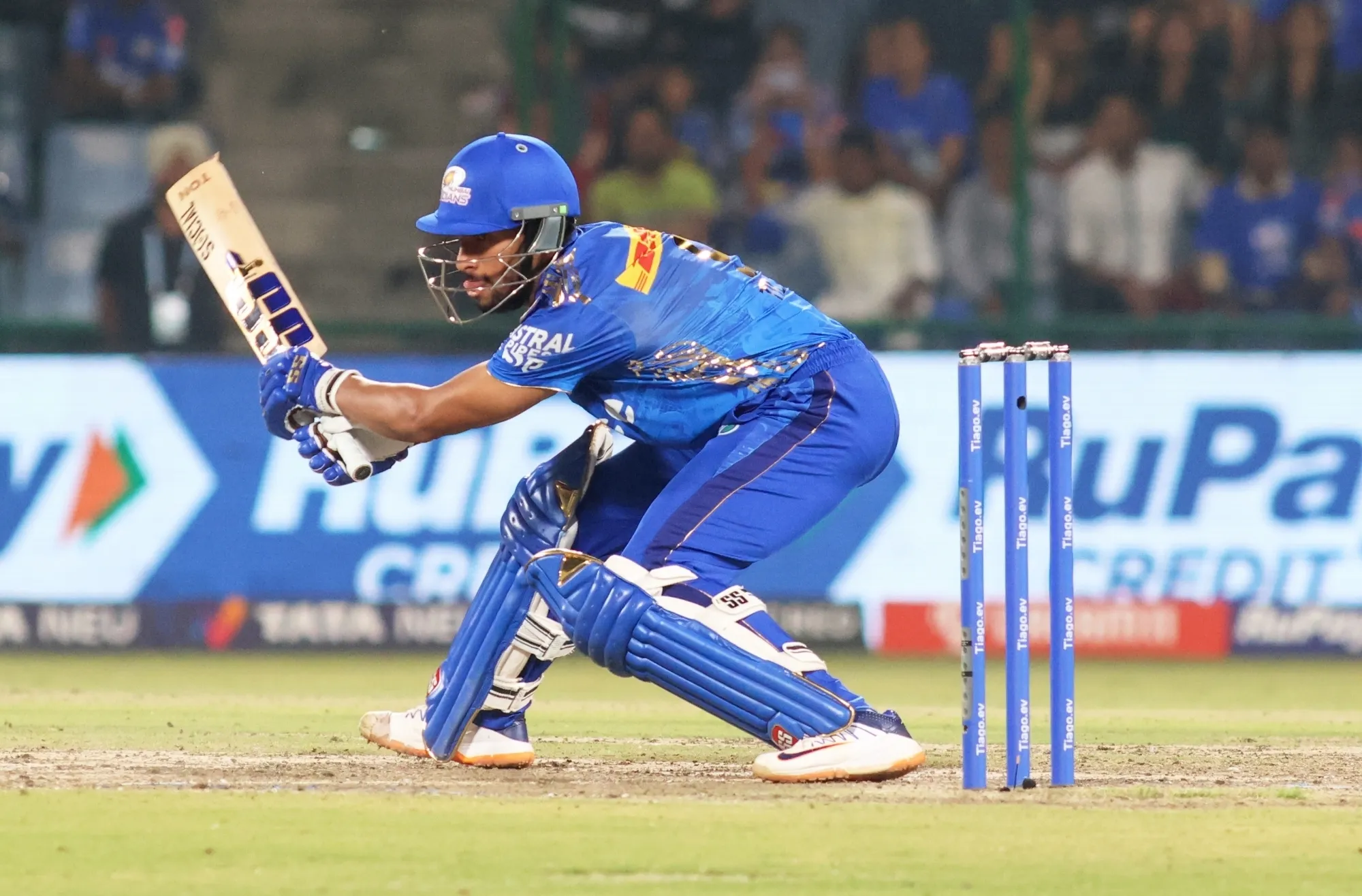 He then followed it up by hitting leg-spinner Mayank Markhande for a six and a four as well.
When asked about the pitch, Varma said that it was turning a bit and he was playing according to the situation.
Since there was support for the spinners, Varma did not want to attack them and instead waited for the seamers.
Mayank Markhande and Washington Sundar were bowling really well, so Varma decided to play them safely and then attack the fast bowlers.
Later on, he charged at Mayank as he knew that Mumbai had capable batsmen to come in after him.
We tried to stay in the game – Lara
According to Brian Lara, the Head Coach of Sunrisers, his team displayed a valiant effort in the match but suffered due to the absence of consistent partnerships, ultimately leading to their defeat.
Although Mayank Agarwal managed partnerships of 46 and 55 with Aiden Markram and Heinrich Klaasen, Sunrisers lost crucial wickets in succession on either side of these partnerships.
Lara believed that his team was always in the game and that the pitch was suitable for a score of 175-180.
The pitch was slow off the deck and had a spinning track. Sunrisers managed to put up a decent score of 192, which Lara considered to be good. However, Mumbai Indians outplayed them and emerged victorious.
Sunrisers had a slow start while chasing the target, and their sluggish performance in the powerplay meant they had to resort to aggressive play in the middle overs.
Despite this, Lara remained confident that his team's batting depth would compensate for their slow start.
Nevertheless, they lost wickets consistently, which slowed down their momentum. Lara viewed this as a learning opportunity for his team.
He acknowledged Mumbai Indians as the better team on the day.
Lara acknowledged that it was a challenging situation, but he emphasized that his team had a strong batting lineup.
He pointed out that players like Bhuvneshwar Kumar and Mujeeb Ur Rahman were batting at the 10th and 11th position, respectively, while Washington Sundar was at number 9.
This gave them confidence that they could still make a comeback despite losing wickets.
However, Lara also highlighted that losing wickets in succession can significantly affect a team's performance.
The new batsmen need time to settle in, which slows down the momentum of the innings.
He noted that in both of their wins, they had a set batsman batting through the innings, which was crucial to their success.
Lara emphasized that having a deep batting lineup was not enough; the right batsmen needed to take responsibility and make the most of their opportunities.
This was an area for the team to reflect and improve upon.
Prior to the match, one of the significant talking points was Sunrisers' decision to exclude fast bowler Umran Malik from the playing XI.
Malik had been a regular starter for the team since making his debut, making his exclusion a surprise.
Instead, Sunrisers strengthened their spin department by including Washington Sundar in the team.
When questioned about the team selection, Lara stood by the decision and reiterated that it was a strategic move to strengthen their spin options.
Lara explained that the team decided to exclude Umran Malik and bring in Washington Sundar due to the pitch conditions.
They believed that the pitch had some turn, which made spin bowling a crucial aspect of the game.
Sunrisers had a lot of options when it came to choosing whether to bowl or bat first.
However, they decided to prioritize saving their impact player for batting, which was Abdul Samad.
Lara felt that the team selection was the best for the pitch and the opposition they were facing.
200% Spribe Aviator Welcome Bonus

200% Spribe Aviator Welcome Bonus
Easy Sign-Up and Deposits
Fast deposits with UPI
300% Welcome Bonus up to ₹10,000
Sunrisers' next match will be an away game against the Super Kings in Chennai on Friday, April 21st.
Meanwhile, the Mumbai Indians will be preparing to host the Punjab Kings on Saturday, April 22nd.