The Knives-out Strategy and T20 Batting Depth Maximisation
During Monday's match, in the 10th over of Chennai Super Kings' batting innings, there was an interesting occurrence.
Ajinkya Rahane chose to hit Wanindu Hasaranga over cow corner, despite 30 runs being scored in the three previous overs and CSK's run-rate being almost 10.
200% Spribe Aviator Welcome Bonus

200% Spribe Aviator Welcome Bonus
Fastest Indian Rupees Withdrawals
Fast deposits with UPI
300% Welcome Bonus up to ₹10,000
This decision went against Rahane's usual pristine touch-play, which had already earned him 37 runs off 19 balls.
However, he missed the shot and was subsequently bowled by a sneaky googly.
In a game where 444 runs were scored over 40 overs, an apparently insignificant moment took on a symbolic meaning.
This moment was also crucial to the away team's victory by a margin of eight runs in another thrilling battle between the bat and ball at the M. Chinnaswamy Stadium in Bengaluru.
There may be room for debate regarding the details, but it is worth noting that Devon Conway had already hit a six off Hasaranga earlier in that same over.
It is also worth considering that Rahane is generally more comfortable facing pace rather than spin, making his decision to attempt such a shot a potentially risky one.
Nevertheless, he was willing to take that risk because, in many ways, he had already accomplished his task.
After coming in at 25/1 after 4 overs, he had helped CSK achieve a 53-run PowerPlay by scoring 28 off the 14 balls he faced during the fielding restrictions.
Therefore, if he lost his wicket halfway through the innings while trying to increase his strike-rate of 185, it was a calculated risk that had already paid dividends.
This decision by Rahane to take on Hasaranga's spin allowed CSK to bring in Shivam Dube, who is known for his ability to hit spin bowling.
Dube was partnered with Conway, another player who is skilled at facing spin.
Although RCB had the advantage of Glenn Maxwell's off-spinners as a matchup, the lack of turn on the pitch and the proficiency of the left-handed batters against spin meant that the batting side continued to dominate.
Conway was able to score 26 runs off 14 balls of spin, and as soon as Dube smashed Maxwell for a 101-metre six over the sightscreen, RCB had to bring their seamers back into action to try and contain the scoring.
Conway took on the inexperienced Vyshak Vijaykumar, and even though Dube struggled against the pace and bounce of the ball, he continued to swing and hit the ball over the short boundaries.
The first innings of the match was a masterclass in T20 cricket, showcasing how to approach a batting innings on a surface as flat as the one at Chinnaswamy Stadium.
By the 13th over, CSK had already scored 132/2, with more big-hitters warming up to come in. During the seven overs following the PowerPlay, they took numerous risks and managed to score 79 runs, losing only Rahane in the process.
This is in stark contrast to RCB's previous match against Lucknow Super Giants, where they had scored 56/0 in the first six overs, but could only manage to score 48/1 during the subsequent seven middle overs.
Teams batting first can often lose matches on pitches like this if they fail to make the most of the period between the PowerPlay and the death overs, which ironically makes up half the duration of a T20 innings.
However, in this match, neither Conway nor Dube batted deep into the death overs, despite both scoring fifties at a strike rate of over 184 and passing on the responsibility of hitting to their teammates.
Ambati Rayudu faced only six balls but had a strike-rate of 233.33, while Moeen Ali batted for nine balls at a scoring rate of 211.11.
CSK's Balls per Boundary (BpB) ratio for their batters at the end of the innings told a compelling story.
Conway hit a boundary every 3.8 balls, while Rahane, Dube, Rayudu, and Moeen Ali had corresponding numbers of 4.0, 3.9, 3.0, and 4.5 respectively.
When compared to RCB's performance against Lucknow, it is evident that Virat Kohli, Faf du Plessis, and Glenn Maxwell spent at least five overs in the middle, with only Maxwell achieving a boundary rate (3.2) comparable to that of CSK.
The other two found the ropes less frequently at 5.5 and 4.6 respectively and, more importantly, also batted for a total of 90 balls.
In these two matches, CSK and RCB presented two distinct approaches to constructing a T20 innings on flat wickets.
One method involves building the innings around a few major contributions, while the other focuses on numerous short bursts of aggressive hitting.
Conway appears to subscribe to the latter approach, emphasizing the importance of quick impact contributions.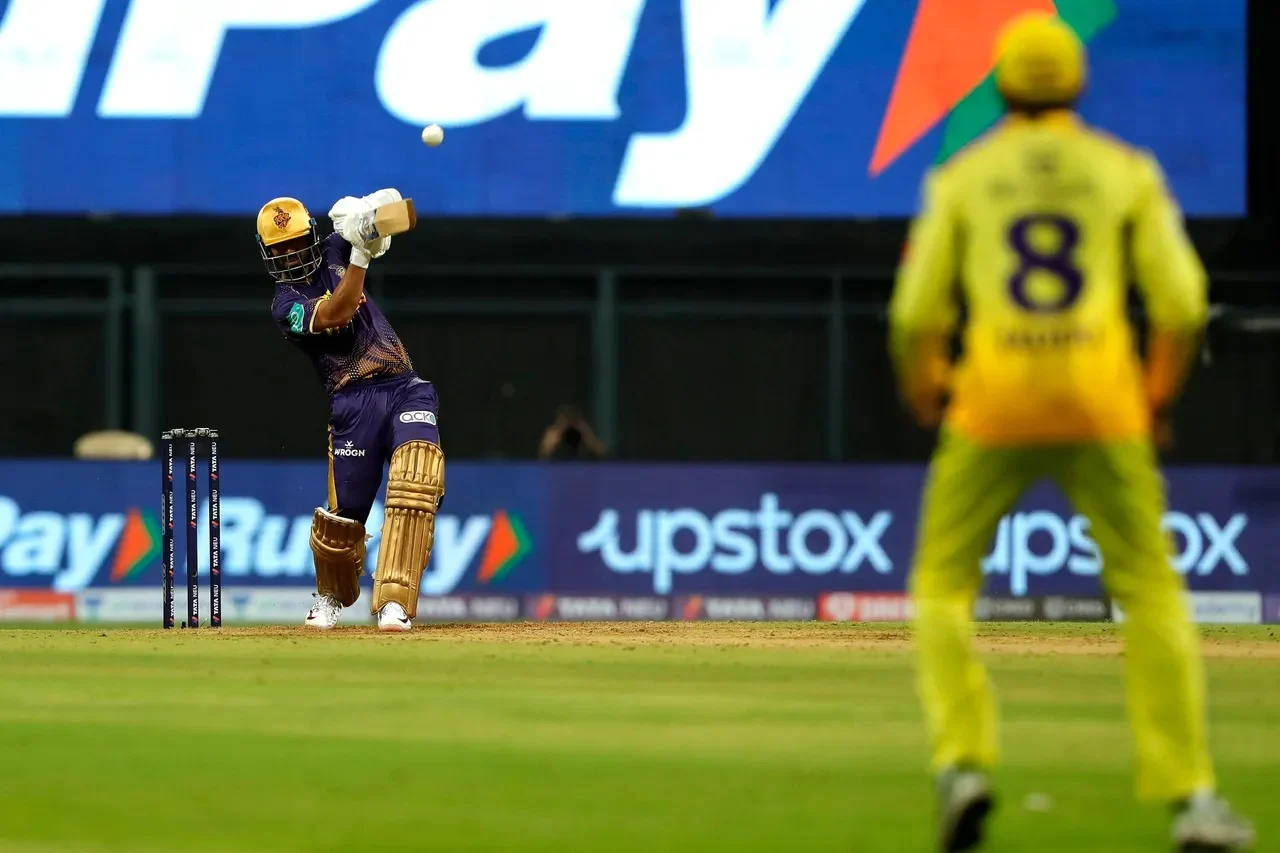 After the match, Conway spoke about the team's strategy for achieving big totals in T20 matches.
"It's about trying to create a strike-rate around 200+," he explained.
"Although I didn't manage to achieve that myself, other players like Ajinkya, Shiv, Rayudu, and Moeen all contributed with excellent strike-rates, and that's what helped us to reach a highly competitive total. This is the approach we take on a wicket like this, where batting is relatively easy. You just need to come in, make a quick impact, and trust your bowlers to finish the job later on."
It is worth noting that the differing approaches of CSK and RCB ultimately come down to maximizing the available resources.
RCB's openers batted in a particular manner because, in the absence of Rajat Patidar, they may not believe that their Indian batsmen further down the order have the same hitting potential.
Even though they have Wanindu Hasaranga batting at No.9, which indicates good depth in their batting lineup.
In contrast, for CSK, the need to score quickly was as important as the desire to do so.
In the past, CSK has always valued a deep batting lineup but has rarely been known for the aggressive mindset seen in this match.
Even on true surfaces outside of Chennai, they relied on players like Dwayne Bravo or Imran Tahir to finish off games for them.
However, with the distribution of bowling resources among ten teams, MS Dhoni and Stephen Fleming understand that their bowling attack is one of the less likely ones in the league to defend a par score.
Therefore, it is essential for their team to aim well above par with the available batting depth, which they demonstrated in this match.
As the game reached its climax, it became evident that CSK's aggressive approach had paid off.
However, in the final stages of the innings, the dangers of a more conservative approach became clear.
CSK scored just 54 runs in the last four overs and faced excellent defensive bowling from Mohammed Siraj.
Claim up to ₹15,000 Welcome Bonus Now

Claim up to ₹15,000 Welcome Bonus Now
UPI, Paytm, gPay & PhonePe withdrawals
The Biggest Bonuses in India
450% Bonus up to ₹1,000,000
This meant that they finished with a total of 226 runs on the board, which was nearly not enough to secure victory.
Any score even slightly lower would likely have resulted in a defeat.