Dube, Conway, and Rahane Blow KKR away
Roy and Rinku exchanged a few blows in their pursuit of 236 runs, but it wasn't enough to stop CSK from claiming the top spot in the table.
For a brief period, the IPL record for the most sixes in an innings (21), which coincidentally happened on this day in 2013, was under threat.
Get up to ₹20,000 Bonus Every Week!

Get up to ₹20,000 Bonus Every Week!
Fastest Indian Rupees Withdrawals
The Biggest Bonuses in India
Available in four different Indian languages
However, Chennai Super Kings fell just three runs short of breaking the record, yet managed to post a remarkable first-innings score at Eden Gardens, thanks to the swashbuckling innings of Ajinkya Rahane, Shivam Dube, and Devon Conway.
Kolkata Knight Riders lost two wickets in the first three overs and struggled to keep up with the run rate for the majority of their innings.
In the end, they stumbled to their fourth consecutive defeat, allowing MS Dhoni's men to claim the top spot on the leaderboard with five victories in seven matches, two ahead of the five teams tied on eight points each.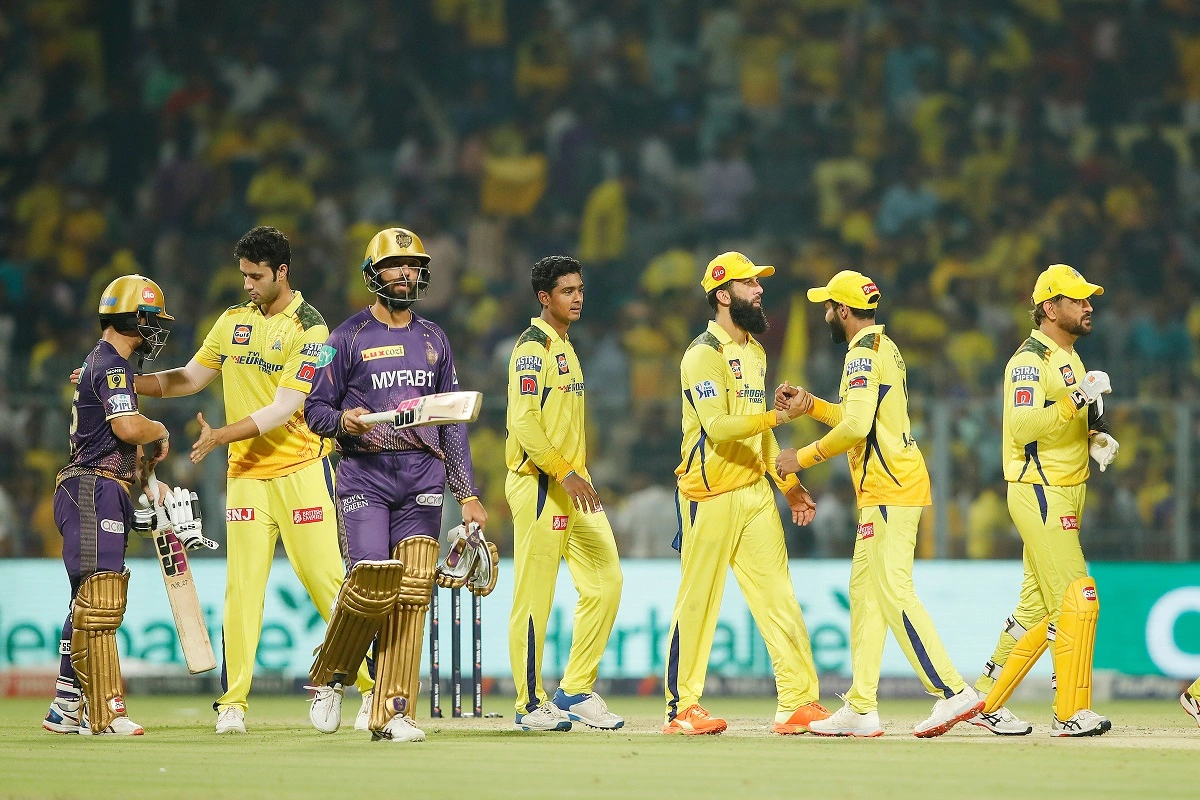 Chennai Super Kings set the pace
Rahane led the charge in the six-hitting spree by smashing five of them in his blistering knock of 71 off just 29 balls.
His partnership with Dube proved to be crucial for the Super Kings, adding 85 runs in just 32 balls, including four fours and eight sixes.
Conway continued his exceptional form by scoring his fourth consecutive half-century, setting the tone for the innings along with Ruturaj Gaikwad.
The duo put up a magnificent opening stand of 73 runs in just 7.3 overs, showcasing their impeccable timing, immense power, wristwork, and muscle.
Despite KKR's bowlers trying to pitch the ball up front with a length, Conway was brilliant at picking the length and hitting them square on both sides, which ultimately backfired on KKR.
Suyash's attack was cancelled out by continued violence
All the elements that make leg spin bowling in the first over attractive were on display when Suyash Sharma took the ball – drifting from wide of the crease, flying, ripping, and turning to beat the inside edge of Gaikwad's bat.
Gaikwad was left amazed. However, Conway quickly countered with a huge six off Sunil Narine.
CSK appeared confident as they crossed the 100-run mark in just the 11th over.
Conway was eventually dismissed when he failed to get the height required to clear the field off Varun Chakravarthy's delivery.
However, Dube stepped up and smashed two massive hits in the same over.
The first was a 100-meter six to deep midwicket when Varun tried to bowl a carrom ball.
Then, when Varun was full, he was dropped to the ground and over the sight screen.
Rahane goes after umesh with a strike
In the very next over, which was the 14th, Rahane continued the six-hitting spree for CSK by playing a stunning pick-up shot off Umesh Yadav's pace.
His instinct-driven batting was top-notch, free from any constraints that might have held him back in previous seasons.
Rahane seemed to thrive in his new role clarity. He was no longer the anchor; instead, he had unlocked his destroyer avatar.
The over would produce another six, this time hoisted over fine leg, and one of the most exquisite extra cover drives you could witness.
Rahane's feet were perfectly positioned, and he leaned into the stroke, elegantly lacing the ball through the offside.
This marked the beginning of a captivating passage of play, as Rahane and Dube, another player who seemed empowered to play his natural game, had a lot of fun and made the bowling attack look pedestrian.
Rahane reached his fifty off 24 balls, while Dube achieved his in just 20 balls. The last five overs went for 75 runs as KKR went into the break feeling deflated.
KKR falls behind early
KKR's chase got off to a disastrous start when Sunil Narine's off-stump went cartwheeling in the very first over. In the second over, N Jagadeesan was caught out by Ravindra Jadeja's incredible athleticism.
Venkatesh Iyer and Nitish Rana tried to make up for the early setbacks by swinging hard and connecting a few times.
However, their efforts were in vain as Moeen Ali and Jadeja struck in consecutive overs.
Venkatesh was given out lbw while attempting a sweep shot on a full delivery, while Rana dragged a slog sweep to Ruturaj Gaikwad at deep midwicket.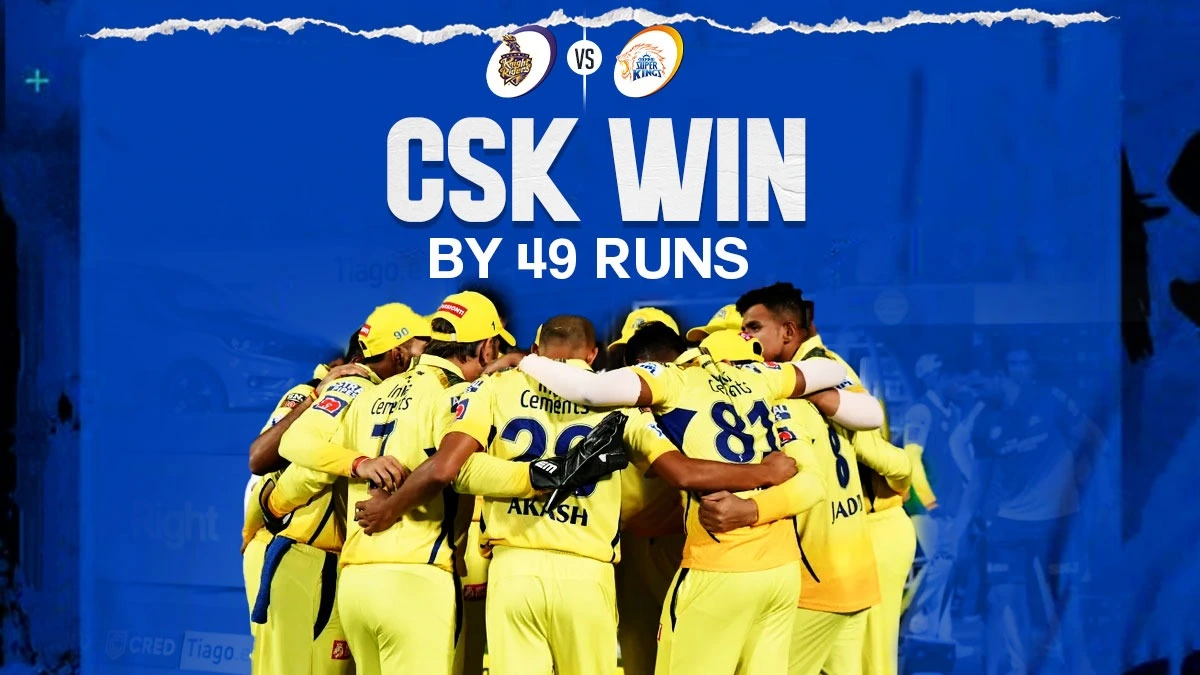 Blitzkrieg by Roy
Jason Roy joined the fray at this point and wasted no time in settling in, hitting sixes off his second, third, and fourth deliveries – all off Moeen Ali.
The first two were powerful slogs to the leg side, and when Moeen attempted to correct his line by firing one full, Roy reverse-swept the ball behind point.
Roy was in an aggressive mood, connecting more often than not, and raced away to a half-century off just 19 balls.
By then, the required run rate had touched an intimidating 109 off just 36 balls.
The finishing touches from Sri Lanka
Despite his amazing performance, Roy's innings came to an end in the 15th over after hitting two fours off Maheesh Theekshana.
On the third ball of the over, Roy was out to a full delivery that dipped and slid underneath his powerful swing.
Despite his heroics, KKR's win percentage was still less than 1%.
200% Spribe Aviator Welcome Bonus

200% Spribe Aviator Welcome Bonus
Easy Sign-Up and Deposits
The Biggest Bonuses in India
300% Welcome Bonus up to ₹10,000
Two overs later, when Theekshana's Sri Lankan teammate Matheeshan Pathirana dismissed Andre Russell, it was clear that the game was all but over.
Despite Rinku Singh's efforts at the other end to reach a half-century, KKR couldn't catch up with the target, and the match ended in favor of CSK.